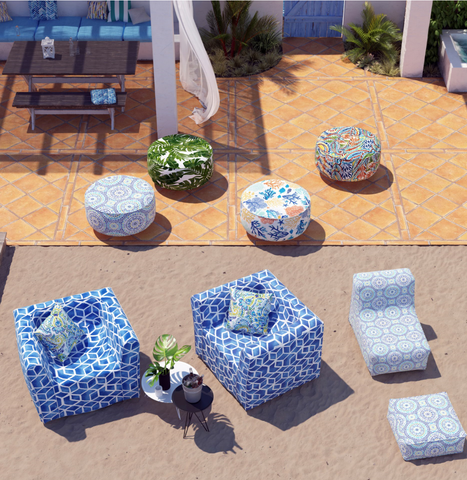 Are you prepared to enhance your outdoor living area? Luxurious backyard renovations don't have to be expensive. Sometimes all it takes to create the backyard of your dreams is the appropriate outdoor lights, some patio furniture, and a little bit of DIY magic. To turn your outside area into a lovely haven on a budget, go through our selection of backyard design ideas.
Why not start with a deck or patio if you are unsure of where to start when remodeling your backyard? This addition quickly ups the curb appeal of your yard and increases the selling value of your house. With this simple DIY project, you can either construct a wooden deck that you can embellish with adorable seats or a concrete patio.
Change the look of the furniture
One of the most crucial elements to incorporate in your backyard renovation is outdoor seating. Rocking chairs, benches, and large outdoor cushions are all great additions to a comfortable seating area for you and your visitors to unwind. Make your day bed out of a wooden pallet for a fantastic affordable outdoor sitting idea. Go with some comfortable inflatable furniture to make your setting more cheerful, colorful, and above all impressive.
A table is essential for your outside area whether you enjoy hosting parties, cooking out in the garden, or working in the fresh air. Purchase a patio set that includes a table and chairs, or construct your outdoor table out of a few barrels and wooden planks as a cheap and easy way to decorate your yard.
Consider comfort
Makeover your outdoor living area with a tranquil meditation area. Find a private area in your yard, and put up a table for incense along with lots of roomy cushions and blankets for relaxing. If your leisure area is next to a tree, add some extra flair by hanging ornaments or a swinging rocker. Your comfort is where home is and home must have a peaceful environment where one can rest and spend quality time with family and friends.
Use different colors
Tables and seating spaces frequently act as focal points in the environment, making them excellent locations to add color. Change up your tan and brown cushions for new ones in vibrant colors as a less expensive alternative, or add pillows to your current seat cushion.
Adding containers in hues of blue, magenta, orange, purple, or even red is one of the simplest ways to make a garden more vibrant.
In a dark front doorway, where flowers won't thrive but a lush green shade-loving plant can, planters may also add much-needed color.
Discover your preferred style
Style is what you prefer or like according to your taste. The amalgamation of colors and different interior ideas. You may add rugs, cushions, lights, or antiques. Include an outdoor rug on your patio or deck. Consider bringing in a rug with a lovely design and colors that will complement your outside dining or seating spaces to create interest at ground level.
Choose a paint hue for your walls that will go well with the neighborhood, including any outside furniture and plants. You may choose a complimentary or comparable color by using a color wheel. You might be permitted to paint areas of the landscape that are hidden from view from the road, even if some homeowners organizations prohibit brightly colored walls on building exteriors.
Recommended accessories for your home and patio
Your patio is an integral part of your home and not simply an afterthought. It's a place to congregate, unwind, eat, and have fun. And you can make it comfortable and appealing with the proper patio accessories.
Keep reading if you're having trouble deciding which accessories to add to your deck or patio.
Throw Pillow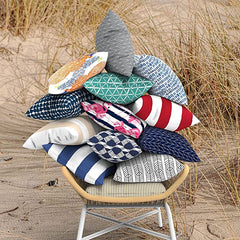 Typically, pillows serve a variety of functions, including providing comfort to the user and a means of increasing the aesthetics of the surrounding environment. This makes outdoor pillows one of the best options for decking out your deck.
You can always choose a color combination that is relevant to a particular season, making your deck a perfect blend of nature. Whenever the seasons change, you can refresh your patio color scheme just by changing out different styles of pillowcases, giving you a whole new visual treat.
Inflatable sofa
The newest variation on blow-up furniture is an inflatable couch, and the idea is quickly gaining popularity. Inflatable sofas and couches, sometimes known as air furniture, are currently produced in a wide variety of colors, shapes, and sizes. The majority of the inflatable couches are constructed of plastic, therefore a modern-themed interior design is probably suitable for them. In addition to the slick plastic models, many businesses sell flocked inflatable couches that have a softer touch similar to velour.
For a variety of reasons, including the necessity for affordable furniture in a starter apartment or dorm room, people buy inflatable sofas. When they have limited room yet periodically need to add extra temporary seating, such as when hosting a party and needing to add a few more chairs, they also decide to buy inflatable furniture. An inflatable couch costs a small percentage of what a conventional sofa would.
Patio Umbrella
Look no farther than an umbrella to give refreshing shade to a patio or deck that is otherwise sunny. A stand-alone umbrella can provide shade for your couch or recliner, or you can choose an umbrella that fits in the middle of your table.
The perfect umbrella may enhance the appearance and feel of your patio while also serving a functional purpose.
The shade provided by a patio umbrella provides a refreshing reprieve from the heat and joyful protection from wayward summer showers. A good umbrella—and accompanying base—should be moveable or adaptable as needed, weathering the elements for years to come, without being a constant source of annoyance.
Patio umbrellas are a must-have for every outdoor living area because they add a wonderful pop of color and much-needed shade on hot days. Poolside, in front and back yards, and in the center of an outdoor dining set are all common places to place outdoor patio umbrellas. Consider the size, design, and features that are most essential to you before making a patio umbrella purchase.
Seat cushions
Generally speaking, a chair cushion is a separate cushion added for comfort and design. The majority of chair cushions have knots to prevent them from sliding about or falling off the chair while in use.
Seat cushions can aid inadequate blood flow to your legs, which is crucial for circulation - particularly if you're sitting for extended periods, advises Dr. Use one of our chair pads to make your chair comfier.
Plus you can have multiple color collections in cushions to prompt your setting and to give it a brighter and comfy feel.
The Conclusive Views
Overall the patio and your outdoor setting need the garden table and chairs set for giving it a comfy and outer lounge feel. With a perfect set of Ottoman inflatable stools, inflatable chair, inflatable couch, and a beautiful colorful umbrella. To make a house up to the standards and societal prestige ottoman furniture plays a very crucial part. So, what to wait for? Order your inflatable furniture now.